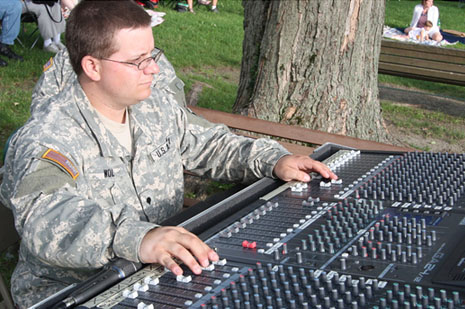 At some point, most acappella groups find themselves in need of an audio engineer. It could be sound reinforcement for a performance, recording for a CD, or any number of other projects. Modern technology and software make it seem like anybody can "just grab a mic and make it sound good," but anyone who has tried to do so without any training can attest to the fact that it's much more complicated than that.
I have been working as a freelance audio engineer for 12 years. I was the primary engineer for the Army band during my time in service, been the "tech for hire" at several high schools and community performance halls, worked as the recording engineer for over a hundred recording sessions, and done all the mixing and mastering for dozens of acappella recording projects. I also teach all of these skills to high school students as part of various Music Technology classes at Great Path Academy.
I am available to run sound for shows, recording sessions, and post production work. Fees will depend on the complexity of the project, the timing, and the gear required. Feel free to Contact Me for a quote.